For those looking to get hitched without a hitch, the white sandy beaches and turquoise depths of the Indian Ocean surrounding the island of Mauritius is one of the few places on earth to rightfully claim the mantle of ''paradise''.
With over 27 years' experience in delivering bespoke fairy-tale weddings, the 5-star Maritim Resort & Spa Mauritius offers specialised multi-lingual staff to provide unparalleled facilities, experiences and service when saying 'I do'.
Set against a 25-hectare backdrop of lush tropical vegetation, the resort features two dedicated and exclusive 'Bridal preparation suites' in the 'Maritim Tropical Flower Spa', which provides comprehensive beauty treatment, hairdressing, manicures and pedicures and make-up facilities. The Spa also features double cabins and garden suites for couple's massages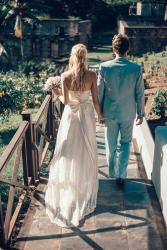 and unique pampering treatments. The property also organises pre-wedding 'Spa parties' alongside a waterfall, wet treatment areas, saunas, steam baths, a whirlpool and outside shower. A special oasis within the wellness complex is reserved for honeymooners, ensuring newlyweds get their life as husband and wife off to the perfect start.
A wide range of ceremonial venues are available at the hotel, with an option to arrive by horse to the Beach Gazebo, overlooking the Turtle Bay marine park, especially popular. Maritim Resort & Spa Mauritius has five restaurants which can be booked exclusively for wedding receptions, including the famed Château Mon
Désir. Housed in a colonial style mansion and overlooking the 'Historical Ruins of Balaclava', the award-winning restaurant serves fine dining cuisine. Specially designed fireworks can be arranged prior to dinner, ensuring the bride and groom enter married life with a bang. Bridal parties can also choose a more informal reception with a beach barbeque following pre-dinner cocktails at the La Marée beach restaurant.
The celebrations do not end once the big day is over. The hotel provides numerous leisure
opportunities for honeymooners. Activities include a diving centre, offering breath-taking aquatic tropical scenery. Globally recognised instructors help guests explore reef sites and wreck dives across the island, creating truly unique memories.
Unique to the island is the 'Maritim Equestrian Centre', located near the 'Historical Ruins of Balaclava'. The state of the art facility boasts numerous paddocks and is home to ten former Championship race horses.  Bride and groom can enjoy a romantic horse ride on the beach or through the natural wonders of the Maritim Estate, labelled the "Most Beautiful Garden of Mauritius". Expert trainers offer private and group lessons with rides along the beach, through the countryside or even a 'swim with the horses'.
For more information, please visit www.maritim.mu
Event Date:
Tuesday, August 15, 2017 - 14:45